News
Posted by Chris Chandler on
If you've ever found yourself wondering what to do with your dog when you're home, you're not alone. Dogs are social creatures who need plenty of mental and physical stimulation to stay happy and healthy. Fortunately, there are tons of easy and fun ways to enrich your dog's life, even within the four walls of your home. Here are 9 ideas to get you started.
Tags:

#enrichment, best dog enrichment toys, best dog treat dispenser, best treat dispensing dog toys, canine enrichment toys, dog enrichment toys, dog food enrichment toys, dog treat dispenser, enrichment toys for puppies, interactive treat dispensing dog toys, k9 enrichment toys, pet treat dispenser, puppy enrichment toys, SodaPup, treat dispensing dog toys, treat dispensing toys, treat puzzles for dogs
Posted by Chris Chandler on
President Biden signs PAWS Act, allowing VA to fund the training of service dogs for veterans
Posted by Chris Chandler on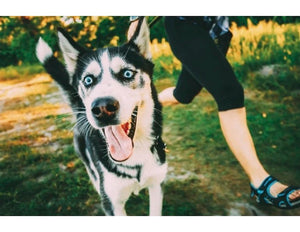 Dogs keep us happy and healthy in so many ways as this article from TheBark.com shows (https://thebark.com/content/your-dog-may-be-partner-you-need-stick-your-health-plan). "Less than 25% of people who start a diet and exercise routine stick with their plans for more than a month, but it's a little tougher to skip your jog if your dog is waiting for you by the door. Dogs make wonderful walking and exercise buddies. Partnering with your dog when implementing healthy habits can add motivation and will make you both happier and healthier. "A balanced diet and regular exercise are extremely important for pets, just like they are for humans,...
Posted by Adam Baker on
We are thrilled to be included in the Hot Mess Housewife 2021 Pet Gift Guide.  Several of our dog enrichment products were covered including our jigsaw emat lickmat and also our cupcake treat dispenser.  You can read all about it at the link below! http://www.hmesshousewife.com/pets-2021-gift-guide/
Posted by Adam Baker on
  "John Rucker was a high school English teacher in North Carolina when he stumbled upon something interesting: Whenever he took his two dogs hiking, they would run into the tall grass and bring him back box turtles. Like a gift, his Boykin spaniels would gently lay them at his feet, unharmed." See the whole story here: https://www.washingtonpost.com/lifestyle/2021/06/08/dogs-save-turtles-wildlife-ranavirus/?utm_campaign=wp_the_optimist&utm_medium=email&utm_source=newsletter&wpisrc=nl_optimist&carta-url=https%3A%2F%2Fs2.washingtonpost.com%2Fcar-ln-tr%2F3360713%2F60c0bb7b9d2fdae3027652af%2F60626e7bade4e266bd4307cf%2F9%2F48%2F60c0bb7b9d2fdae3027652af
---